Production and development
of telecommunications equipment
+7 (812) 339-09-60
+7 (964) 339-09-90

Production and development
of telecommunications equipment
+7 (812) 339-09-60
+7 (964) 339-09-90
About us
"Russian Telephone Company" (RusTelCom) was formed in 1991 by an expert group highly qualified in telecommunications. On October 3rd, 2016, we celebrate our 25 years anniversary.
ELKOM, a brand well known to specialists in communications, was launched in 1993 when RusTelCom developed its first digital automatic telephone station. Since that time, more than 2 000 000 ports in 51 Russian regions from Murmansk to Far East have been connected to network carriers. Our products are also known in neighboring countries: our equipment is installed in Ukraine (40 00 ports), Abkhazia (25 00 ports) and Kazakhstan (21 000 ports).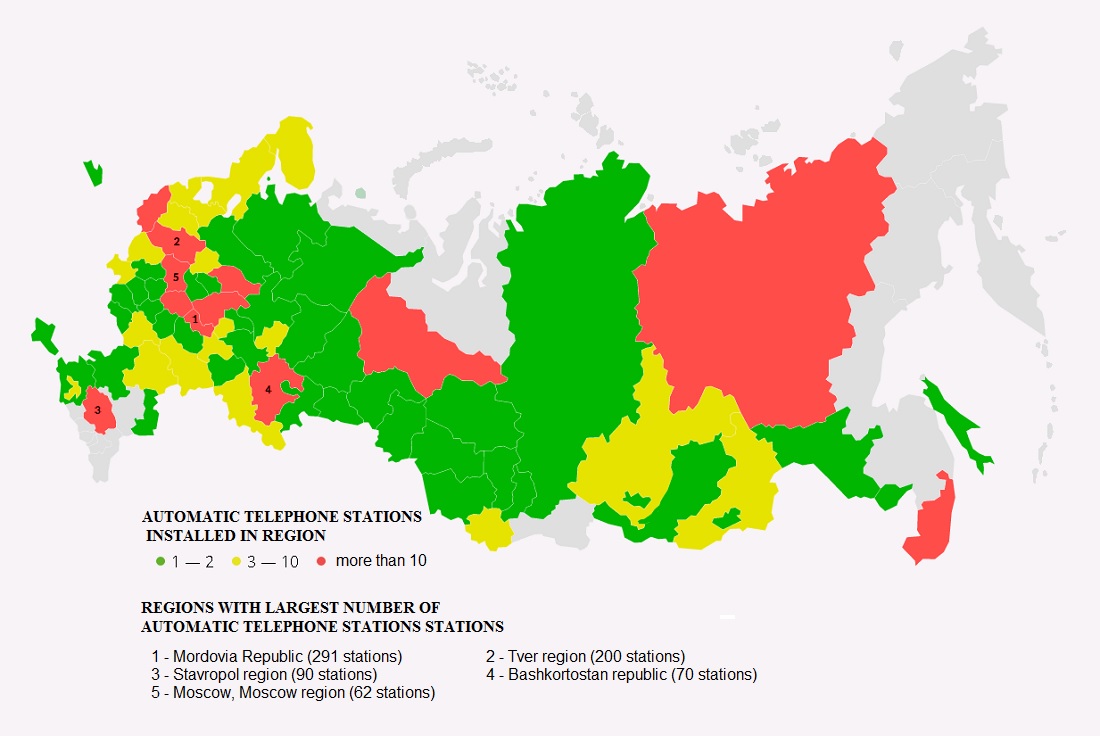 RusTelCom currently produces modern Russian-manufactured telecommunications equipment that is required by state communication providers, business clients and regional network carriers.
We are proud of our customers. Largest Russian communication companies such as Rostelecom, Vympeltelecom, MTS, RZhD (Russian Railways), Gasprom and others have trusted RusTelCom to create their telecommunication facilities. Our best advertisement are letters of gratitude from customers who use our equipment.
"Russian Telephone Company" is a Russian-based manufacturer of telecommunication equipment. In Saint-Petersburg the company owns a 1ha plot of land. There in 2001 we started our own modern production. Our plant is currently equipped with two automatic production lines with total output of 140 00 parts an hour. We perform 100% outgoing inspection with automatic optical check and roentgen control.
Apart from the production complex, we possess a scientific and technical laboratory, warehouses and auxiliary buildings also located on the plot.

RusTelCom corporate group develops and produces Russian equipment that fulfills all modern requirements. In the nearest future, we will present a new multi-service access node (MSAN) for analogue users. In 2016 we have started developing telecommunication equipment with Russian-produced Baykal processor. We also modify our existing products adding modern functions.
Additionally, our customers choose RusTelCom because they know they will receive a good level of technical support and they value it highly. Our support reaches even the owners of old product versions. RusTelCom services and repairs discontinued products and if necessary upgrades almost all versions.
Our experts are trained in cooperation with Russian educating institutions. Automatic telephone stations ELCOM are installed and accepted as part of study program in N. P. Ogarev's Mordovian State University, Ufa Radioelectronic College, V. A. Petrov Stavropol Communications College, Tjumen College for Communications, Informatics and Management, Smolensk Telecommunications College (branch of Bonch-Bruevich Saint Petersburg State University of Telecommunications), Krasnoslobodsk City Vocational and Technical School No 27 (Mordovia). In cooperation with Russian Ministry of Defence we have opened a study room in S. M. Budjonny Military Academy of the Signal Corps.
RusTelCom's communications equipment is certified for correspondence to modern standards. Our quality management system is certified for correspondence to ISO 9001:2008 and GOST ISO 9001–2011. Furthermore, RusTelCom is licensed by Federal Service for Technical and Export Control for technical protection of confidential data.
Licenses and certificates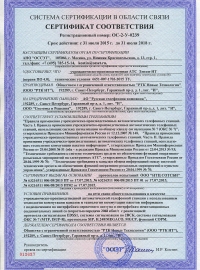 Communications Certification System Certificate for office and production automatic telephone station "Elcom NT"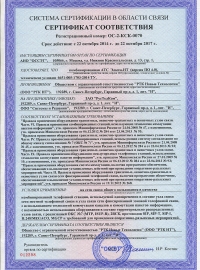 Communications Certification System Certificate for combinedautomatic telephone station "Elcom NT"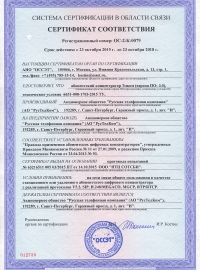 Communications Certification System Certificate for line concentrator "Elcom"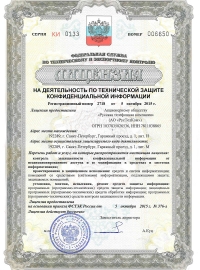 Federal Service for Technical and Export Control license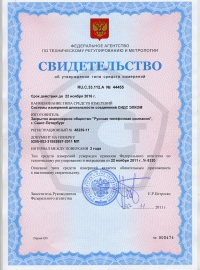 Measuring tools approval certificate
Trademark certificate. Sheet 1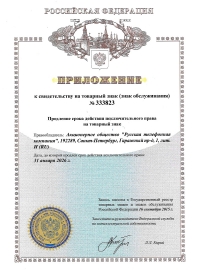 Trademark certificate. Sheet 2