The cooperation  started in 2005, when the first station for 3000 telephone numbers was put into operation in Astana - the capital of the Republic of Kazakhstan. And the partnership is still lasting. Overall there were installed 6 automatic telephone stations of general capacity 23 000 ports.
"JSC "RusTelCom" has been successfully operating in communications market of Kazakhstan for over 10 years. Public communications network of Astana is using over 20 000 ports of digital automatic telephone station "Elcom".
Operating experience proves that we have chosen the right equipment and the right partner. High level of reliability, low power consumption, good value for many - these are the main features of RusTelCom equipment."
Director of LLP "Elitcom" V.S. Lim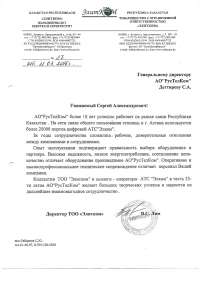 Reference of LLP "Elitcom"