Digitization of public communication network in Ulyanovsk region, Saratov region, the Republic of Mordovia, the Chuvash Republic. 32 city and district telephone stations, more than 300 rural automatic telephone stations of general capacity 317 000 ports.
In 1997 first rural district was digitized with OKS07 protocol (Chamzinskyj district of the Republic of Mordovia).
2001 - digitization of Insarskyj district of the Republic of Mordovia and video meeting of patients and doctors from Bakulev Cardiology Institute, Moscow.
"During our cooperation, Russian Telephone Company has proven that it is not only an innovative telecommunication equipment producer, but also a reliable partner.
Operators from Mordovia are grateful to Russian Telephone Company for long-lasting honest cooperation. We hope to develop it in the future".
Director of the branch I. A. Volfson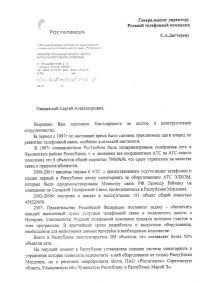 OJSC "Rostelecom" MRB "Volga" page 1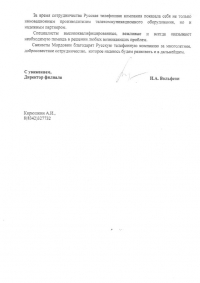 OJSC "Rostelecom" MRB "Volga" page 2