Digitization of public communication network in the Republic of Adygea, Stavropol region, the Kabardino-Balkar republic. 22 city and district stations, about 100 rural automatic telephone stations of general capacity 200 000 ports.
"Russian Telephone Company has been one of the main partners of OJSC "Rostelecom" MRB "Yug" in sphere of regional communication network for 15 years, providing equipment, installation and commissioning services of digital telephone stations "Elcom".
Crucial criteria in selecting your company as our supplier were the following:
good qaulity for our money
shipment and commissioning services in a short period of time
professional technical support"
Vice Director of the branch, Technical Director G.E. Chertorevsky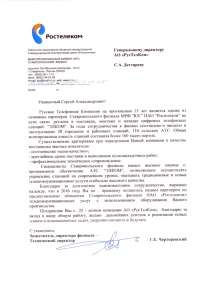 OJSC "Rostelecom" MRB "Yug"