JSC "RusTelCom" was responsible for city communication network in Sukhumi, the capital of the Republic of Abkhazia. The first automatic telephone station was constructed in 2005, The second ATS for 10 000 telephone numbers was put into operation in 2007. Then the project was extended and 5 more stations of different capacity up to 1000 numbers were put into service during following years.
The cooperation carried on in 2009, when a new ATS for 500 numbers was installed in Ochamchira, the Republic of Abkhazia. In 2016 it is planned to install ATS with broadband access in Sukhumi.
"JSC RusTelCom has been cooperating with Abkhazia companies since the beginning of 2000. During a short period of time the whole urban telephone network of Sukhumi was modernized on the basis of digital stations Elcom.
Up to the present moment  we have been closely cooperating with JSC "RusTelCom". Software is regularly renewed and boards are repaired if needed."
Director of Sukhumi branch of RUE "Abkhazsvyaz" T.A. Pipia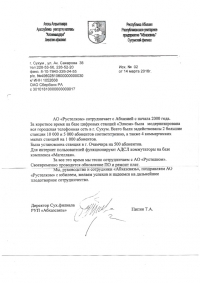 Reference of Sukhumi branch of RUE "Abkhazsvayz"