Production and development
of telecommunications equipment
+7 (812) 339-09-60
+7 (964) 339-09-90

Production and development
of telecommunications equipment
+7 (812) 339-09-60
+7 (964) 339-09-90
Production
Our production process consists of the following stages.
Incoming configuration control
Visual control worksite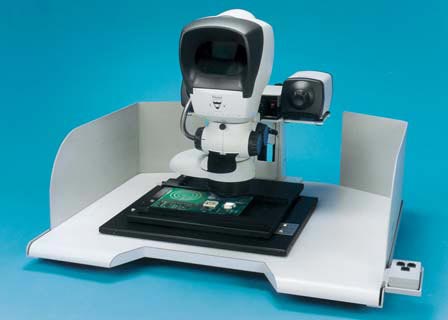 Developed for configuration quality control of printed board assemblies with surface mounted components. Visual zoom up to x80. Digital recorder may be connected.
LCR-meter
Designed for resistance, capacity and induction control of passive components.
M

ultifunctional radial and axial component counter with adapter for smd-components

Processes up to 9999 components.
Surface mounting and reflow
Surface mounting line

A
utomatic wildcard printer for soldering paste
Cycle duration is 8 sec, application precision is up to 10 μm. The printer is equipped with flat images identification system which allows to achieve high reproducibility and reduce defects.
High-speed surface mounting components installer
Unit throughput is up to 40000 components/hr. Placement precision is no less than 65 μm. The unit consists of two parallel conveyor belts, which allows to assemble 2 products simultaneously. The installer also has 2 placement heads with 6 vacuum tips, feeder belts from 8 to 32 mm wide. The elements may be supplied from sticks. The unit processes standard chip components as well as microcircuits with output spacing 0.5 mm. 
Multifunctional surface mounting components installer
Unit throughput is up to 31000 components/hr. Placement precision for complex components is no less than 25 μm at 3-σ. The unit has two placement heads with three vacuum tips each and feeder belts from 8 to 32 mm wide.
For one product, more than 20 different types of components may be installed.
Conveyor reflow oven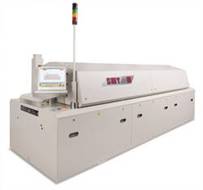 Conveyor oven for soldering paste reflow. The unit is equipped with seven heating and cooling zones and thermal profiling function. Average cycle duration is 25 sec.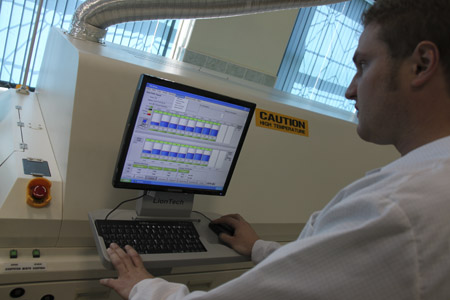 Technical control
Automatic optical inspection installation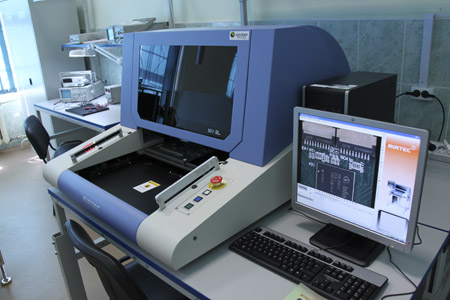 The installation is designed for detection surface mounting defects such as raised outlets, microcircuit contacts and connectors coplanar alignment, element dislocation and incorrect polarity, soldering quality control etc. Short cycle duration (10 to 20 sec.) Integral defect marker.
4 
stage system of printed boards cleaning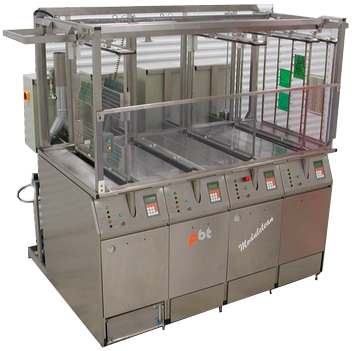 Designed for cleaning printed boards from solder fusion agent residue. The system is equipped with computer control, ultrasonic bath, hot-air drying and special protection for sensitive components. Various cleaning programs may be created. Speed limit is up to 60 boards/hr. 
Point-to-point wiring
Soldering station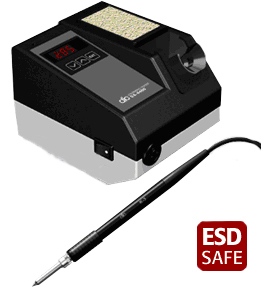 Soldering stations with tips and modified heating element built with composite materials. Heating range is 200 to 400°С. The stations are equipped with complete electrostatic protection.
Repair centre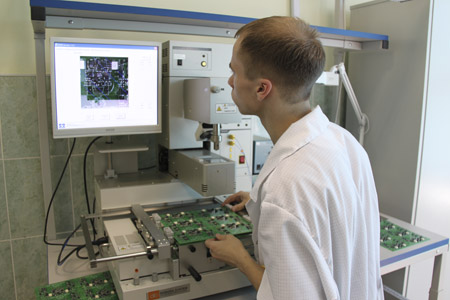 Radio installer worksite equipped with repair center for mounting and dismounting components (including metallic shields). 
Heating range is 100 to 500°С, alignment accuracy 25 μm at 6-σ.
The repair center is suitable for BGA and other complex geometry components. It achieves high precision alignment geometry and temperature profile. 
In-circuit and functional testing
Test system with four movable probes

The system performs complete electric check of assembled products and functional testing. Product features are stored in automatically created databases. Using the system prevents such defects as short circuits, loose connections, deviation from nominal values or active component features.
The system is equipped with 4 independent probes (2 probes from either side), 2 digital video recorders for optical inspection of the immediate defect location. Minimal contact surface is 50x50 μm. Minimal distance between centers of contact surfaces is 0.1 mm.
X-ray control
X-ray installation for printed boards control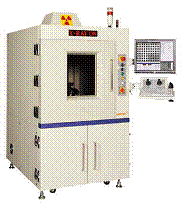 Controls assembly quality for components where contacts are located beneath the case or other assembly parts.
The installation also detects lack of soldering uniformity for complex components.
Up to x1590 zoom.
Technological features of our production
One-sided and double-sided wiring
Automatic soldering for SMD installation
Wave soldering
Manual installation
Installed components range from 0201 (0.6 mm x 0.3 mm) to 45 mm x 45 mm with height limit 15 mm; QFP and similar elements with output spacing up to 0.3 mm; SOIC, PLCC, TSOP, CSP, BGA with balls spacing up to 0.5 mm.
X-ray control
Repair and installation of BGA microcircuits cases
Flying probes control
Functional control of electronic modules